One-of-a-Kind Wedding Dessert Catering
Are you tired of traditional wedding cakes and searching for a unique dessert to serve at your wedding? Look no further than Gelato Brothers! Our gelato catering for weddings combines modern ideas and classic tastes. You can either book our food truck that serves gelato, coffee, and tasty treats or our pop-up tent that provides the same fare. No matter which option you choose, you'll be sure to have delicious wedding dessert catering for your special day.
When you book our gelato catering for weddings, you and your guests will have an array of 20 flavors of gelato to choose from. Kids and adults of all ages love our variety of flavors, so you can rest assured that there will be a sugary treat for everyone at your wedding. We also make baked goods, including our handmade Brodallions®. These waffle chips are made from scratch baking with family farm fresh eggs and Madagascar Vanilla. They're the perfect crunchy snack on their own or top any of our gelato flavors perfectly.
How to Book Our Catering Services
Don't wait to book our wedding dessert catering services for your big day. With our years of experience and dedication to serving up joy to Knoxvile one scoop at a time, you can rest easy knowing that you've checked dessert off of your wedding to-do list.
All you have to do is fill out our online form. On the form you'll have to tell us the following information:
The date of your wedding
The location of where we'll be serving your guests
The approximate number of guests (we can serve up to 1,000)
Your estimated catering budget
Your contact information
How you heard of us
Any other details you want to share!
Plan the perfect day by booking our gelato catering for weddings. You can fill out our online form or give us a call at (865) 630-0107. We can't wait to help give you the wedding of your dreams with our one-of-a-kind wedding dessert catering services!
Gelato
Stracciatella – A Madagascar vanilla bean gelato with shards of mild Italian chocolate (Italian version of chocolate chip) GF
Dark Chocolate Chip – Our smooth dark milky gelato embedded with dark Italian chunks. GF
Sea Salt Caramel – Soft made from sea salt, caramel, sugar, and milk. GF
Raspberry Sorbetto – Bright and intense raspberries, ice and sugar make this dairy free option a sweet surprise. GF DF
Pistachio – Made from real emulsified pistachios, sugar and milk, this is a nut lovers treat. GF
Lemon – Real lemon juice, sugar and water keep this treat at 5 grams of sugar per scoop. Expect a tart sweet treat. GF DF
Strawberry Cheesecake – Emulsified strawberry cheesecake, milk, and sugar. This is a cheesecake lovers treat. GF
Southern Butter-Pecan – Start with real pecans, butter, milk, sugar and add striations of maple syrup. This is a southern treat with a little north-eastern maple syrup thrown in. GF
Coffee & Sips
Organic brews – Our fresh locally roasted, fresh ground, fresh brewed organic beans makes our Brew Bros line of coffees. They are available in light-roast blend (Farm Girl), medium-dark roast (Milkhouse) and dark roast (Espresso Roast) whole bean bags as well as cup servings.
Brogato – This is our version of the Italian Affogato. We serve this Italian treat with two scoops of Stracciatella with a fresh-pulled crema espresso drizzled over the top. A crowd favorite and a European sweet treat for breakfast, lunch or dinner!
Latte – Our little Italian Nuova Simonelli espresso machine hand pulls the best lattes. Natural Vanilla, Hazelnut, and Salted Caramel flavor shots make the day sweeter. Our mocha latte will keep you dreaming of the next one!
Bro Chocolate – This is beyond what you would expect. We think the Italian chocolate makers worked overtime on this for us.
Cones, Brodallions & Add-Ons
Waffle Cone – This is a European style hand-made treat from scratch daily in our bakery. This is cooked until golden brown in our "giraffe" pattern of dark and light baking marks. It will blow your away. We offer these dipped in our dark thin chocolate for .50 extra. Look out for a little chocolate treat at the bottom of your cone. DF
Berries – We offer "layering" of fresh seasonal berries in your cone or cup.
Brodallions – These are our epicurean "currency". It is our European side crunch that comes with any hot drink or scoop we serve. We bake them fresh daily and offer them in a four pack or a 2 pack of chocolate dipped versions for a little extra. DF
Nutella – This is one delicious dollop that can be added to a cup or cone.
Some of The Bros Favorites
Strawberry Cheesecake Gelato
Want to wow the crowd? This is our crowd pleaser called Strawberry Cheesecake shown with our signature fresh baked Brodallion Waffle Chip.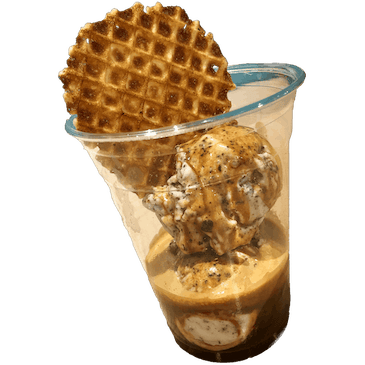 Brogato
Get the flavor explosion of combining our fresh pulled espresso over our milky Italian Gelato in a dish we call the #Brogato.
Iced or Hot Caramel Macchiato
Nothing beats our locally roasted espresso that is fresh ground and hand pulled from bean to pleasing Caramel Macchiato.
BROSAMMICH
Individually sealed and perfect for your event or party. Buy our BroSammich today and pickup at your favorite location.