Gelato
Stracciatella – A Madagascar vanilla bean gelato with shards of mild Italian chocolate (Italian version of chocolate chip) GF
Belgium Dark Chocolate – Our smooth dark milky gelato embedded with dark Italian chunks. GF
Sea Salt Caramel – Soft made from sea salt, caramel, sugar, and milk. GF
Raspberry Tart – Bright and intense raspberries, ice and sugar make this dairy free option a sweet surprise. GF DF
Pistachio – Made from real emulsified pistachios, sugar and milk, this is a nut lovers treat. GF
Lemon Ice – Real lemon juice, sugar and water keep this treat at 5 grams of sugar per scoop. Expect a tart sweet treat. GF DF
Strawberry Cheesecake – Emulsified strawberry cheesecake, milk, and sugar. This is a cheesecake lovers treat. GF
Southern Butter-Pecan – Start with real pecans, butter, milk, sugar and add striations of maple syrup. GF
We have even more like The Worlds Best Milk and Cookies, Lemon Pie and Italian Spumoni. On the non-dairy (DF) front we have Mango Bango.
Coffee & Sips
Fresh-pulled Espresso Shots – Just like in Italy we have fresh roasted beans that are fresh ground on the truck and fresh pressed in our little Italian Nuova Simonelli espresso machine made to order.
Organic Brews – Our fresh locally roasted, fresh ground, fresh brewed organic beans makes our Brew Bros line of coffees. They are available in light-roast blend (Farm Girl), medium-dark roast (Milkhouse) and dark roast (Espresso Roast) whole bean bags as well as cup servings.
Brogato – This is our version of the Italian Affogato. We serve this Italian treat with two scoops of Stracciatella with a fresh-pulled crema-filled espresso drizzled over the top. A crowd favorite and a European sweet treat for breakfast, lunch or dinner!
Latte – Our little Italian Nuova Simonelli espresso machine hand-pulls the best lattes. Creme brulé, Vanilla, Hazelnut, and Caramel flavor shots make the day sweeter. Our mocha latte dark will keep you dreaming of the next one!
Cold Brew –  We have a line of 3 types of cold brew ready for a hot day and poured over ice.  Perfect for drop of coffee Catering.
Bro Chocolate – This is beyond what you would expect. We think the Italian chocolate makers worked overtime on this for us.  This is great for kids as there is no espresso used.
 Cones, Brodallions & Add-Ons
Waffle Cone – This is a European style hand-made treat from scratch daily in our bakery. This is cooked until golden brown in our "giraffe" pattern of dark and light baking marks. It will blow your away.  DF
Brodallions – These are our epicurean "currency". It is our European topper crunch that comes with any coffee drink or scoop that we serve. We bake them fresh daily and there is always one with each product served.  For drop-off catering we offer these in a 10 pack individually wrapped. DF
Nutella – Europeans aren't big on toppings if the gelato is good.  But with Nutella they make an excpetion. This is one delicious dollop that can be added to a cup or cone.
Some of The Bros Favorites
Strawberry Cheesecake Gelato
Want to wow the crowd? This is our crowd pleaser called Strawberry Cheesecake shown with our signature fresh baked Brodallion Waffle Chip.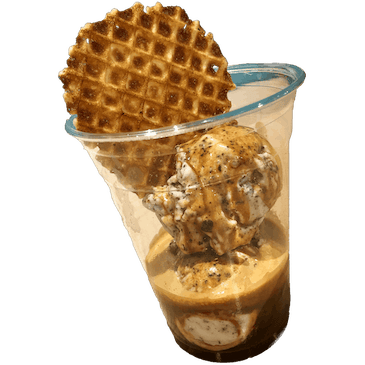 Brogato
Get the flavor explosion of combining our fresh pulled espresso over our milky Italian Gelato in a dish we call the #Brogato.
Iced or Hot Caramel Macchiato
Nothing beats our locally roasted espresso that is fresh ground and hand pulled from bean to pleasing Caramel Macchiato.
BROSAMMICH
Individually sealed and perfect for your event or party. Buy our BroSammich today and pickup at our sampling shop location or have delivered for a fee.